In these last few years talking about the environment has become more and more important. There are several actions that now are having a bigger importance and participation by the general public, this includes paper recycling.
Paper recycling is one of the most important process when referring to recycling. This can save more than 64.7% of the product and means a massive help for the environment.
This is why several companies and governments invest so much making conscience about how important paper recycling is. And not only for the environment, because this also represents a small support for the economy.
If you want to know more about this topic and check for useful information to find places or processes in which you can participate to recycle paper, keep reading this article.
What is paper recycling for?
Recycling is the process to use old things as new ones, in other words, in this process nothing is wasted, but is changed into useful products again.
Around one billion of trees worth of paper are thrown away every year in the U.S. People use more than 85,000,000 tons of paper every year.
Paper recycling is an action that is trying to reduce the waste of this product and also prevent the production of methane as it breaks down. Paper recycling keeps the carbon locked up for longer and out of the atmosphere.
Places to recycle paper
Recycle Finder
RecycleFinder is a good option to find recycle centers around your area. Is very easy to use because you only need to introduce several data about where you are localized, select how close the center must be, select cardboard, paper or similar and done.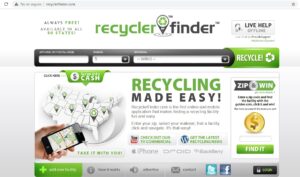 Earth911
Another good option is Earth911, a website where you can search for recycling centers as well. Select which material you want to recycle, in this case it will be paper, then choose which kind of paper.
After that you will only need to put your Zip Code and done, it will show you where you can take your paper to be recycled.
Grocery stores
Some groceries stores have bins for each recyclable material.
Franchises
Target, Walmart, Aldi and others have also bins dedicated to this purpose. This is one of the best options having in mind that is very easy to find one of these locations near where you reside.
What types of paper can I recycle?
There are several types of papers that can be recycle, these are some of them:
Office paper.
Phone books.
Paper with coating.
Paper cardboard dairy and juicy cartons.
How is the process of paper recycling?
This process takes a lot of time and work to be done because involves several steps to awaken the fibers, decreasing the yields each time.
These are the steps for paper recycling:
Paper is collected in different locations.
Then is transported to the material recovery facilities.
Already in the material recovery facilities needs to be separated from others materials such as plastic, glass and others.
Then needs to be separated again in groups like copy paper, contaminated paper, paper for packaging, newspaper and others.
The useable paper is broken down into fibers, cleaned and screened.
After that needs to be de-inked, thickened, brightened and dried.
In most of the cases is mixed with virgin wood fibers. Then is pulped, dried and cleaned to be used as new paper again.
What is the recycled paper used for?
Recycled paper can be used to make birthday and greeting cards, cardboard for cereal boxes and cracker boxes, toilet paper, printer and copier paper, among others.
Benefits of paper recycling
There are tons of reasons why paper recycling is a very good idea. The environment is having a lot of problems and this action helps to reduce greenhouse gas emissions and make space for other materials that cannot be recycled.