Ready to learn how to get rid of that old, junk, or wrecked ride, for cash? Keep reading.
The fastest and most convenient way possible
Where to sell your vehicle
When it comes to getting rid of your car you need to have everything in order so as not to waste time on minimal details. Considering that you simply need to get rid of it because you need money, we present two easy sales options:
Online: If you want to list your car on a classifieds site, knowing what potential buyers are looking for can be the key to a faster transaction. Also, making your post attractive by publishing many photos and the condition of the car will help attract attention.
There are several specialized pages and apps, such as Auto Action, KBB, and Edmunds.
Dealerships: The fastest option. It is generally the least profitable alternative unless you want to buy a new car in the same agency and you want to give the old one as a down payment for the acquisition of the new vehicle. In that case, go to a dealer of the same make as the car you want to sell. They will offer you a better appraisal.
Dealing with Cash-per-car buyers
Buyers that specialize in buying old and junk cars, as well as auto parts also accept wrecked and even flood-damaged vehicles. If your old car is falling apart, this is a good option to do something about it.
Additionally, these companies offer rates based on the value of a recoverable car or reusable car part. That is why they can offer you higher prices than your regular junkyards. Plus, they'll pay you cash on the spot.
If you decide to sell your old car to a cash-per-car company, be sure to keep the following tips in mind:
Be honest about the condition of your car.
Choose a buyer who offers free towing or pickup services.
Remember that trading is practically a game. Use the cards well in your favor.
Calculating the value
Try to get an idea of ​​the value and worth of your car, especially if we have cash in mind. Things like the year, make, model and condition of your car contribute to its current value.
Upgrades to your vehicle, such as aftermarket parts, such as wheels, could also affect its value.
If you are constantly taking your car to the mechanic, you should evaluate it as well. However, when there are many visits, we can also doubt that the mechanic you are going with is not the right one. So ask for a second opinion. Some repairs are the norm for certain models or brands.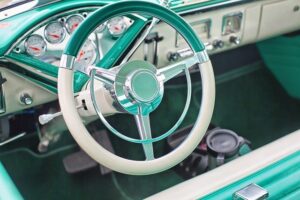 Another perspective to tackle the problem is to add up the amount of money you have spent on your car to date. Remember; A car is not an investment, since its value is constantly depreciating. So every time you spend money in your car, you need to know if you are going to keep using it for longer.
There are online car valuation tools or even apps that make this job easier. Here is one. You just need to enter your automobile details, and the calculator will provide you with estimates.
Keep in mind that these values ​​are for cars that are still working. If your old car still works, use these values ​​that you will get as a price guide once you sell it.
Selling the ride by old-time
Most dealerships consider the average age of cars to be only 10 years old, so it is highly likely that a vehicle older than that will be significantly less sought after. If they buy and resell a vehicle that's a decade old, its next user will only be able to use it for another two years (or even less).
Nobody wants to go through the car buying process twice in just a couple of years. It is not profitable.
Selling a car on the Internet is free, it reaches a huge number of people and allows you to include photos and detailed information. It is, without a doubt, the future (although there are people who still do not trust).
For more valuable information on a green attitude, stay tuned for our next posts.